About Us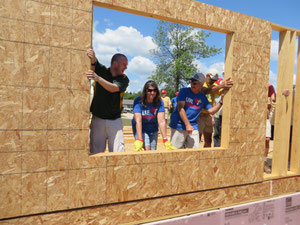 While Ozaukee County is recognized as one of the wealthier counties in Wisconsin, there are still families living in substandard housing whose conditions are in severe need of improvement.
 In August of 2014, we were granted Affiliate status by Habitat for Humanity International. We have completed a few smaller projects in Ozaukee County since becoming our own affiliate, and we broke ground on our first home in Grafton in August of 2015.
Our partnership with community churches, businesses and the general public has made it possible for our young chapter to build a our first one-family home in 2003. Since then, we've built a two-family home in 2006, four-plex in 2009, and another one-family home in 2012. We've also built a wheelchair-accessible garage in 2013.
These organizations and individuals have supported us in numerous ways - donating funds, labor, materials and meals for volunteers - and we couldn't be more grateful. The partnering Habitat families' sweat equity also contributes to this labor of love.